Daily Diary (Day 43 to Day 49)
Page entries run from the bottom.
Day 49
11 January 2011
Milford Sound to Cascade Creek
Stats for the day...
Kms travelled: 47.93
Metres climbed: 1,225
The alarms went off way too early and we threw our things together in time for Moff to pick us up by 8. We were off pretty shortly after that and only returned once to pick up the pannier that we had left behind.
Once on the road again he took us in the direction of Milford. We have talked a lot about mountains and rivers before but if you have driven this road you will know that none can compare to these and words to describe them haven't been invented. Giant mountain peaks tower above everything, jabbing at the sky and in between snow hangs on the top of saddles sending down rivers of melt and threatening to slip down to the rocks or even road below. They have a very experienced avalanche team here as a result of the precarious landscape.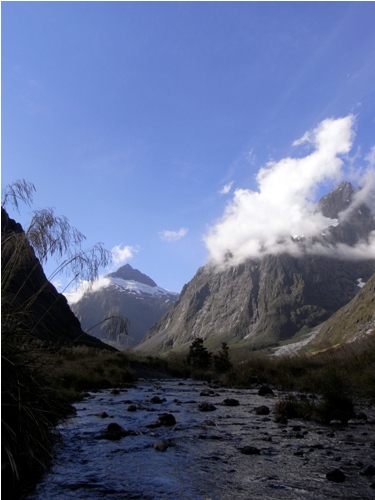 We stopped the car to walk into the bush to see a particularly wild chasm and later to take photos and take in the view. It was just as well, as the tall peaks that shot up next to the road were often too hard to see from within the car - better on bike perhaps? We both smiled to ourselves knowing that the bikes were in the back of the truck ''just in case''.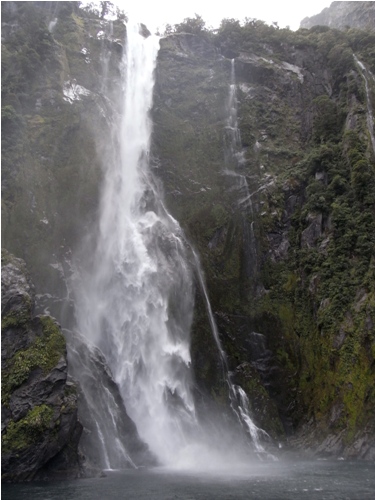 Arriving at Milford we were given the choice of a shorter cruise or the longer, slower one. We took the longer one on the more beautiful boat. Many of the boats are big ferries but the Milford Wanderer is an old-style sailing boat with lots of character. The offer was so good that even our local, Moff, decided to come with us. It was very good of Real Journeys to put us all on the tour for free.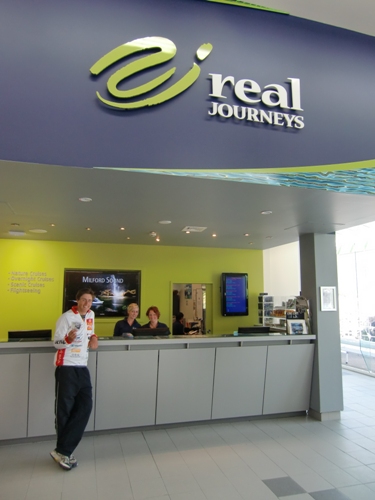 We set off on the iconic Milford Sounds, which it turns out aren't sounds at all, they are fiords. Sounds are carved out by water, whereas fiords are carved by glaciers. Waves over the bow soon had us trying to find a better place to take in the sights.
Fur seals lazily sun-bathing looked like fat slugs on the rock and brown marks bleeding out of the lower cliffs hinted at the copper that lies within them. It was great for us that Moff had decided to join us so that he could continue to tell us things about the area that aren't obvious on passing. Moff is a keen fisherman and often comes out into these waters looking for Hapuka and crayfish.
We went right out to the ocean, going as far west as we could on this trip. We have now been as far north, east and west as we can spreading the message of polio. On the way back we steered right into a waterfall, which, although much smaller in volume, is actually higher than the Niagara Falls! We found that astonishing fact hard to get our heads around. It was pretty magic to be so close underneath it though - that much we could grasp.
We got back and loaded up the bikes, bidding farewell to Moff until tomorrow night. We decided that although we haven't ridden in we will at least ride out of the Milford Sounds. The road is so majestic it demands that we spend longer than an hour or so travelling through it. So for the evening we were back on our trusty steeds, completing the planned route we decided on months ago, albeit only once. Ollie's knees have been unpredictable lately so there was a chance they might turn out for the better and there really isn't far to go now.
We sweated and puffed our way up the 18km incline to the Homer Tunnel in the surprisingly hot 4 o'clock sun. That was the hardest hill we've had yet and it felt great. People pay expensive gym fees for a work-out like that and we got it for free in the most awesome setting imaginable. When we got to the tunnel we felt like we had achieved something but the tunnel is uphill itself and we still had over 100 metres left to climb.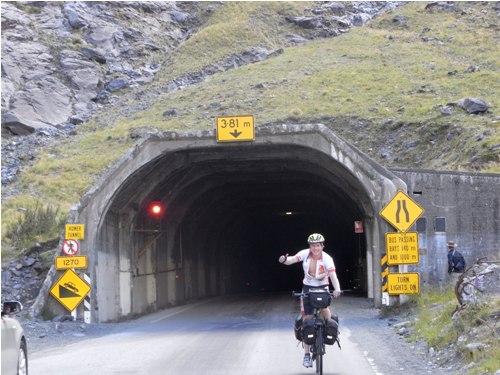 Inside it was scary with the cars passing us first from behind then from in front when the lights changed. Xaver confidently led the way and Ollie wondered how he could ride so fast in the near pitch-black until he realised he still had his sunglasses on. Suddenly the world was visible again and the tunnel a lot more enjoyable. We emerged triumphant into the evening air, ready for a long downhill.
We climbed the second uphill, preparing for a longer but less intense day tomorrow, and found a DOC campsite just past Lake Gunn. An Irish family living in Australia gave us a beer after we had set up camp. They had seen us in the tunnel and thought we might need it. We didn't disagree.
Xaver and Ollie
Day 48
10 January 2011
Mossburn to Te Anau
Stats for the day...
Kms travelled: 68.35
Metres climbed: 342
We did the hard yards yesterday so we didn't have far to ride today. We had a feast of a breakfast to shed unnecessary weight and to celebrate what may have been our last night camping. Stewed apples, tinned apricots, bananas and nuts with our porridge was a luxurious start to the day and we set off after eleven, only to stop for lunch a few hours later at the two thirds mark.
Today we were surrounded by mountains although we rode along plains the whole way, occasionally climbing to a new plateau or dropping down to the lower straights along the river. All the while the gold of the tussock and dry grasses lead up to the bottom of the granite and silver crags of the mountains below the ice-blue sky.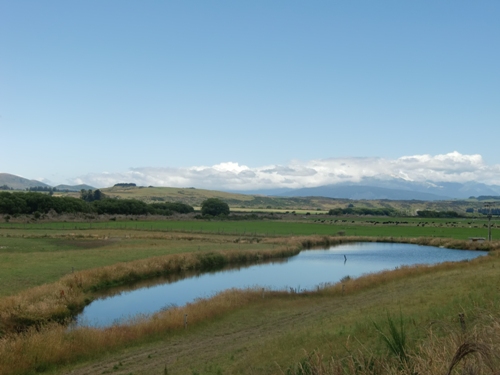 The sun bore down on our arms and necks, looking for a piece of skin left bare by our hats. They restrict the view of our inspiring back-drop but they're necessary in the heat. In the sun the black cycling computer read 44 degrees - a false reading for sure but a sign that it was definitely a warm day.
At lunch we ventured into a reserve looking for shade. A lookout point had none to offer but we used the walls of the platform to support the outside of the tent, forming a hut in which to sit while we ate.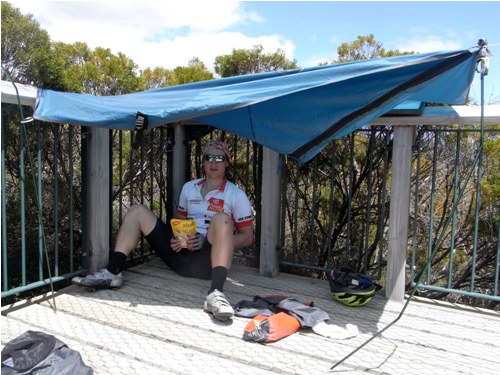 We rode the last 20 kms into Te Anau with a tail-wind behind and the steep hills of Fiordland ahead. We came to the Red Tussock Motel where Rotarian Rennie has allowed us to stay for free and relaxed watching the tennis. We enjoyed a stir-fry dinner with a beer, made better by the thought that we can't have these things on the road.
We met Moff, who organised our time here in Te Anau. He is taking us into Milford Sound tomorrow for a boat trip and a bit of a relaxing outing. We may jump out of the truck and onto the bikes at the top of the hill to take advantage of the 20 km downhill into Milford Sound. If we can't do the whole thing, we might as well do the best bit.
Ollie and Xaver
Day 47
9 January 2011
Queenstown to Mossburn
Stats for the day...
Kms travelled: 107.86
Metres climbed: 749
We woke up at 7:30 to have breakfast and get ready by 9, when John and Mary were leaving for a bike race. John made us bacon and eggs again and we had a chance to get a photo, which we had forgotten to do yesterday.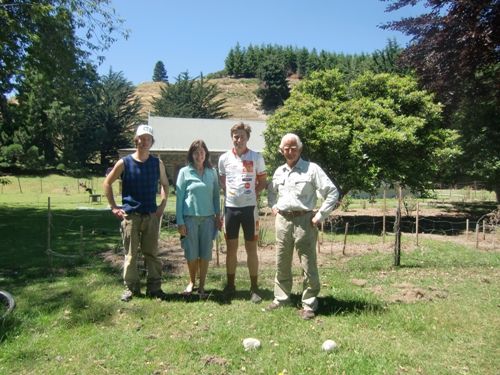 It was hard to go slow when retracing the same 14 kms from yesterday but we both felt good and the morning sun made us take a look around at the unbelievable scenery - again.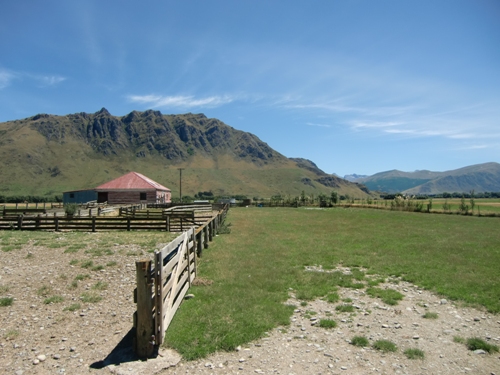 As we passed the point of the crash we felt we were breaking through a barrier, into new territory and past the spot that beat us yesterday. Ollie's arm feels good now and doesn't limit his cycling. While we're on it, his knees feel good too.
Xaver was particularly happy not to have any rain, in fact the sky was blue except for the odd lonely cloud hanging over a hill. The wind was behind us in the morning and we flew, only thinking about lunch after fifty something kms.
We saw a couple and a young man in a garden who waved so we thought we would ask if we could fill our water bottles. They invited us in for coffee instead and we sat chatting for more than half an hour.
Dale, the father, is a poet, painter and photographer and captures the beauty and history of these lands with his art. We were treated to a ballad of 'the mountain rose', delivered with such flare and feeling, then son Brody took us up the hill, from where we could the whole valley.
3 kms down the road we stopped again for lunch. Dale had recommended the homemade pies in Garston so we thought we'd check it out. Garston is NZ's most inland village and the Garston Hotel, where we had lunch, is the most inland hotel in NZ. Fascinating. It was interesting though, and telling about New Zealand, that even in the place furthest from the ocean there are still sea birds. We marvelled at this as oyster catcher flew overhead.
After lunch the wind picked up and turned on us as we climbed the gentle uphill that would lead us over a valley pass. We slogged our way to the top and looked out over the plains that opened out on the other side with the road to Bluff a straight line to the left and the road we would take curving off to the right. We came within 90 kms of our destination today but it will take us another week to get there as we explore the more scenic route through Te Anau and Manapouri.
Aside from nearly being attacked by a llama that tried to launch itself through a fence it was a smooth ride and we managed to get back on track after yesterday's 'hold up'. We are staying at a really nice open campground with peacocks, goats and the llamas more friendly cousin, alpaca.
It will be a much shorter ride into Te Anau tomorrow.
Ollie and Xaver
Day 46
8 January 2011
Queenstown to Queenstown

Stats for the day...
Kms travelled: 13.87
Metres climbed: 182

Ollie rose early and swam some lengths of the lap pool while Xaver caught up on some z's. In his defence he was talking with loved ones in Germany till two-ish - catching a rare opportunity to get in touch. We had a cooked breakfast, caught up on blogs from the last two days and John took Ollie to their supermarket to stock up for the next few days. John even put the groceries through on his account. John and Mary have been so good to us, which made the prospect of going out on our own again a little less inviting but as usual there is a buzz associated with making progress and getting closer to our goal - not to mention the anticipation of new places and people to come. We loaded up the bikes and headed out into the warm and unfamiliar sunshine, happy that the forecast is for nice weather for the remainder of our trip.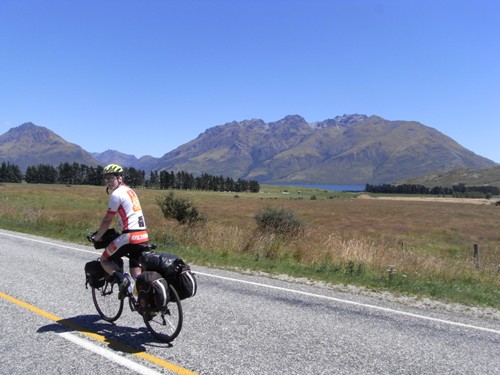 As we scaled the bottom of the Remarkables and marvelled at the skydivers sailing gently back down to earth our tummies were already rumbling so we prepared to stop after just 14 kilometers. We were approaching the rest stop with Xaver in front and Ollie behind and we both looked back to see a campervan behind us. Xaver had already been honked at loudly so courteously moved to the side but clipped Ollie's front wheel on the way over. Ollie was still looking back so by the time he realised, he was already on the way to the ground. He landed on his arm and back and eventually skidded to a halt. The camper behind, slowed down and passed us without stopping, while Ollie jumped up and Xaver pulled the bike off the road.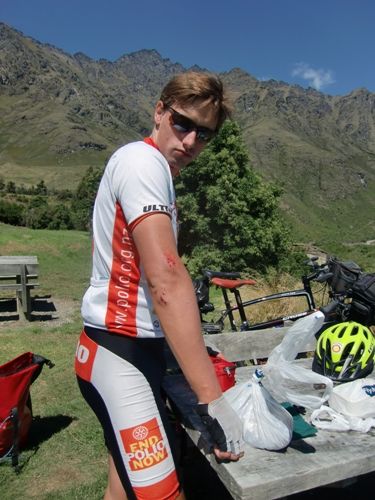 A car of Americans offered to take us into town but we thought lunch was a bit more important, giving us time to decide whether it was worth going back. After lunch Ollie's arm was bending fine but had a dull ache and we called John again, asking for one last favour - to pick us up and take us to the medical centre. We thought it was better to know if it was broken or not, rather than waiting till we were in the middle of nowhere. John's ambulance arrived and he took us into the hospital, where the doctor examined Ollie's arm and had some x-rays done. The arm is fine, it is only soft tissue that is damaged and we will be good to go in the morning, as long as it doesn't happen again! John and Mary have been elevated to saint status, inviting us into their home for one more night and giving us dinner. We can't thank them enough.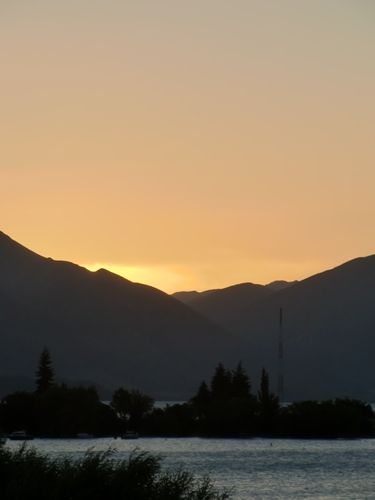 We were very lucky that the damage was superficial and not a further hindrance to the cycling, and it possibly wasn't a bad thing to give the knees another day's rest. Sitting with a beer in the early evening sun we wondered if we had done this on purpose. It seems that when Ollie fell, we both landed on our feet.

Xaver and Ollie
Day 45
7 January 2011
Arrowtown to Queenstown
Stats for the day...
Kms travelled: 38.13
Metres climbed: 405

We woke up to blue sky and bacon and eggs - a winning combination in our books. We got going shortly after nine and went down to Gary and Lois' Jade and Opal factory in the quaint heart of Arrowtown. The main street is like none we have seen before with its old buildings flanked very closely by jagged hills and mountains. The pace of life is noticeably slower and no-one seemed to mind that we were riding down the one-way main street in the wrong direction.

We were treated to a tour of the factory, seeing how Jade is cut up, carved and then polished with five different grades of sandpaper. Garry and Lois' son is the head carver and specialises in very intricate twists and curls, making for some really amazing jewelery. We had a coffee from the local cafe and while we waited for the Queenstown riders we looked around the sweet shop trying the different flavours of fudge.

The Queenstown Rotarians turned up and had a coffee as well. There were four of them, three had ridden out one way and and all would ride back with us. We stood about, sucked into the slow pace of Arrowtown mainstreet and before we left Garry presented us each with a pounamu pendant from his shop. We were touched by this gesture and will cherish the memories that they now carry - of this trip and of the wonderful people we have met along the way.
| | |
| --- | --- |
| | |

We set up into the wind at a gentle speed. The locals took us through a scenic route through the exclusive Millbrook golf course, with the sun shining and famous peaks of the Remarkables and Coronet on either side. With us we had our host John and past district governor Derek as well as Ian and Pat - all latecomers to cycling but like so many others that we have met along the way, they have become very fit doing this great sport and they all say it is a good chance to catch up with mates. It seems that no-one can resist the bug of entering into events and getting a bit competitive as well.

We passed the Shotover River and came into Queenstown through the industrial area until we arrived at Mountain Scene newspaper. We had a very long interview with Celia there and then went down to the lake for a photo. A combination of strong wind, stiff peddles and an unexpected car creaping up beside us saw Xaver falling athletically off his bike onto the road, but apart from a graze on his knee it was quite uneventful - thankfully.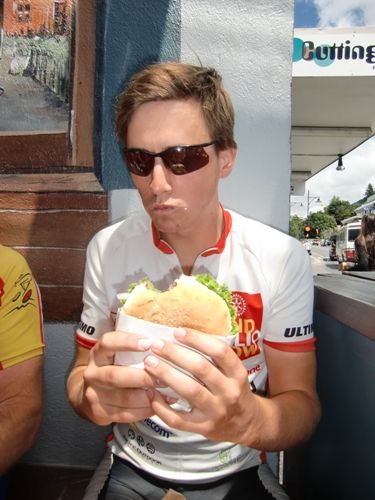 We had to try a Ferg Burger as we have heard about them as far away as Auckland and Ollie was particularly interested in seeing whether they lived up to their reputation. It is fair to say that they did.

We came back to John and Mary's place overlooking the lake for a swim and a freshen-up before popping back into town to meet friends from Heidelberg, Aurelia and Saskia who have been travelling in New Zealand for many months now and stayed with us in Wellington. It was great to catch up with them and to swap travel stories, ending with an ice cream on the waterfront.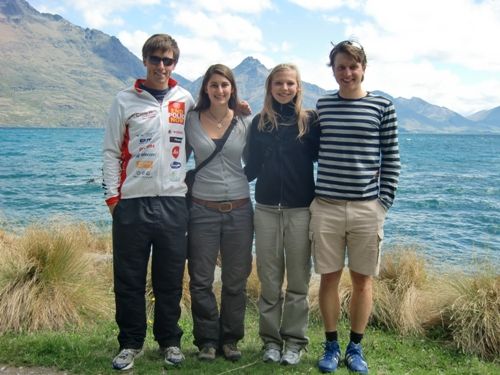 We were joined by Rotarian cyclist Pat and his wife for dinner as well as some other members of the Rotary Club and it was a very enjoyable evening all round. Blogging had to wait for the morning as we both flopped into our beds and slept off our supposed rest-day.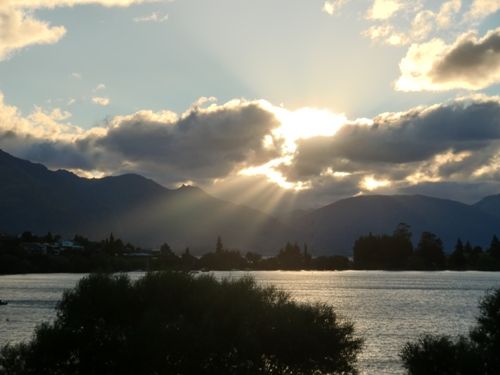 Xaver and Ollie


Day 44
6 January 2011
Wanaka to Arrowtown
Stats for the day...
Kms travelled: 67.12
Metres climbed: 985

The morning started with a phone call from the local radio station. We came to the phone blinking our bleary eyes and trying to wake up before going live on air but in a way it was a good thing not to have time to get nervous about saying all the right things. When we talk to media it gets easier every time, and we realise that they are more interested in having a relaxed conversation with us and not a tough interview like you see in movies. They often give us younger reporters, too, which makes it very relaxed. Both the radio host Dan and the reporter from the Wanaka Sun were about our age and making their way up in the world of journalism.

We rode into town in very grim weather and without our panniers. We felt very uncomfortable with our bikes unladen and even had trouble controlling them as we climbed the few hills into town. We were on our way to Outside Sports to meet Scott, who is a very experienced and practitioner of Specialized bike fitting program BG Fit (body geometry). He was pleased to see that Ollie already had the BG Fit shoes, so he spent some time using shoe-inserts to get the bike to match the asymmetry of Ollie's body, rather than forcing Ollie to be symmetric like the bike. In this way he was able to get Ollie's legs peddling in a straight line, rather than the unbalanced, circular motion that was happening before. There are so many "experts" in the bike world but you can really sense when someone knows what they are talking about and Scott was one of those people. The only issues left with the knee are to do with a tendon saying it has had enough but unfortunately the only thing for it is rest. Hmm.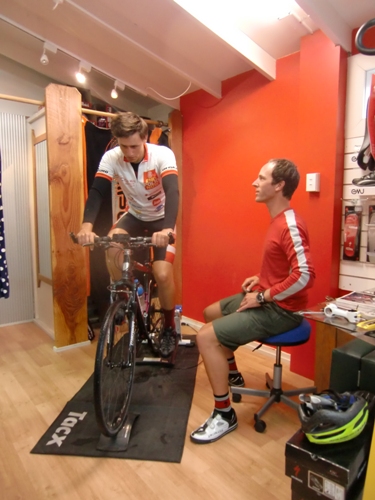 We dropped in on the Wanaka Sun newspaper on the way home and had a few photos in the rain. The weather has been a bit disappointing in Wanaka and our hosts showed us pictures on the computer when we got back of what we should have seen when we looked out the window. Malcolm is part of a photography club and has a bit of an eye for it, so it was nearly as good as the real thing - but not quite. Catherine cooked us up some sausages and eggs to get us going and we set off for Queenstown via the Crown Range, happy to have our side bags weighing us down again.

It is a very gradual ascent for most of the way up from Wanaka and as we passed the historic Cardrona Hotel and posed as good, keen men outside the pub the rain was clearing and the sun was even thinking of coming out.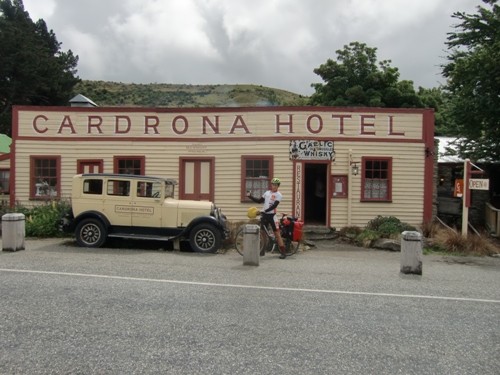 The road passes over the Cardrona River every few kilometres and each bridge is numbered in descending order, providing a slow countdown to where the river (which is more like a stream) snakes off into another valley, leaving us to do the hard work. When the steep bit hit we did our usual thing of changing down to a low gear, standing up in the peddles and getting into a rhythm. This climb was harder than the Haast Pass because although it wasn't as steep, it was longer. It takes more mental endurance as after 6 weeks of life on the road, physical endurance is not really an issue. We could feel the air thinning and cooling and the plants became more sparse and alpine the higher we went until finally we came out onto the highest piece of sealed road in New Zealand, with clouds passing underneath us and sometimes clearing to reveal the fabled zig-zag of hair-pin bends that lay ahead of us on the downward flight. We stopped for some photos, a pitstop and our last Xenofit energy stick, which we carefully halved. We donned jackets and readied ourselves for the cold but exhilerating descent that was to come.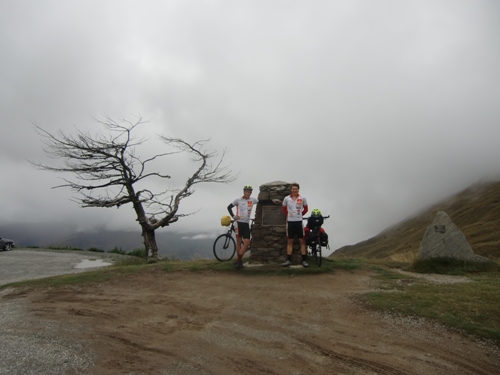 And exhilerating it was! Usually we ride in single file but when the cars can't go faster than us there is no point and we relished the opportunity to swing round the tight corners in parallel formation, stopping on occasion to capture the picture, mentally and digitally, of the valley stretching out to Queenstown airport. We took the turnoff at the bottom out to the historic mining village of Arrowtown. We had come to stay with Garry and Lois, whom we had met on the West Coast and who had offered us a place to stay when we were in the area.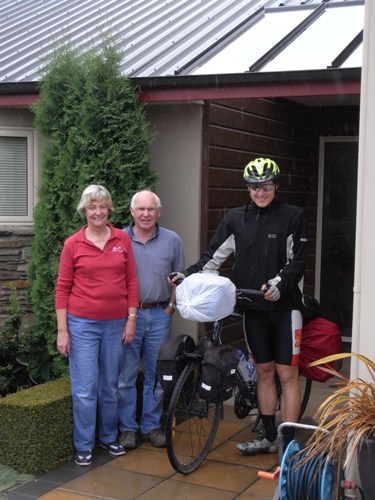 It was great to see them again and we didn't have to much trouble settling in with a spa and a glass of red wine, while listening to Garry's crazy stories of his life, business and hunting.
The fallow deer that was being cooked to perfection on the BBQ would have to wait as we were shown an impressive trophy room containing animals from Alaska to Africa. When we did get to dinner it was definitely worth building up a hunger as it was fantastic and we ate like a couple of water buffalo - although I hope with a few more manners.

Ollie and Xaver
Day 43
5 January 2011
Makarora to Wanaka
Stats for the day...
Kms travelled: 68.16
Metres climbed: 782

Our neat little grove of pine trees served to protect us from the unexpected rain that hit in the early hours of the morning. The tent was still wet but we were able to pack up and eat breakfast in relative peace - we were away by 10 o'clock with thermals and jackets on once more.

It was a shame that it was cloudy, foggy and rainy on the day that we would ride along Lake Wanaka and then cross over to ride along Lake Hawea before crossing back to Wanaka township. We couldn't see much of what we knew were stunning views of jagged mountains reflected in the lake surface. The road was, as usual, much hillier than people had told us it would be so we put our heads down and rode. About half-way we felt pretty hungry but it was too cold and wet to stop and make a proper lunch so we had a can of cold spaghetti each. It was neither enjoyable nor beneficial but it filled a gap and we suppose it got us to Wanaka, ready to stop for the next 24 hours.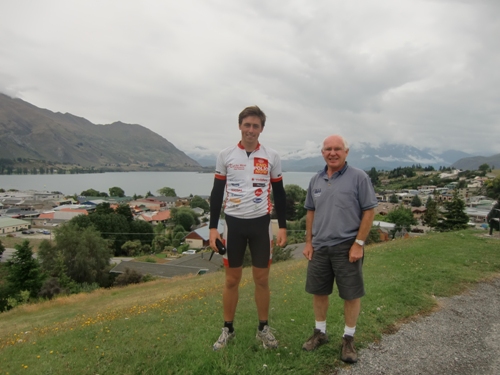 Our first port of call was Rosie and Blair's house. Rosie is the secretary of Wanaka Rotary Club and although we aren't staying with her she was instrumental in organizing our time here and it was great to meet both of them.
When we first got there we were pretty low in energy but a steady stream of coffee, sandwiches and delicious home-baking saw us perk up and we ended up sitting at the table for a long time swapping stories about our trip and their travels around Europe. Rosie put us in touch with a very good doctor and got in touch with the local radio station for us.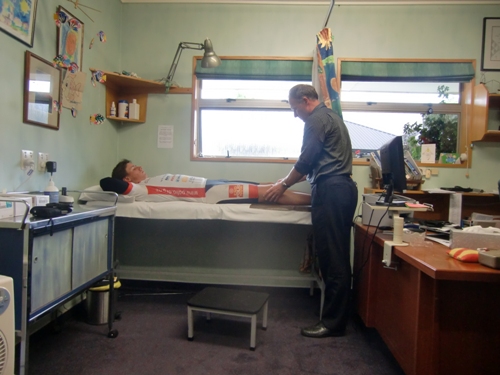 We met our hosts Malcolm and Katherine and immediately jumped in the car to make the appointment with the doctor. Dr Andrew McLeod is an endurance cyclist himself and understands the problems associated with repeating the same motion over and over again for 6 weeks.
He had a look at Ollie's knees and put us in touch with a local bike expert who can have a look at Ollie's set up tomorrow. As he says, it's an exact science and what might have been right for Ollie a month ago will most likely have changed during our ride.
For all those who have been worried about the knees, doctor says there won't be any long-term damage and getting the position right and continuing to ride gently in the mean-time should mean Ollie finishes this ride with a smile on his face. Wouldn't that be a bonus! As he pointed out, this ride wouldn't be what it is without the challenges we face along the way.
The Rotary Club of Wanaka helped us out with the doctor's fees and then Malcolm took us around to Glendhu Bay and the outlet from Lake Wanaka into the Clutha River. It is amazing to see how swollen the lake and rivers are as a result of the hundreds of gushing waterfalls and overflowing creeks we have seen on our way here.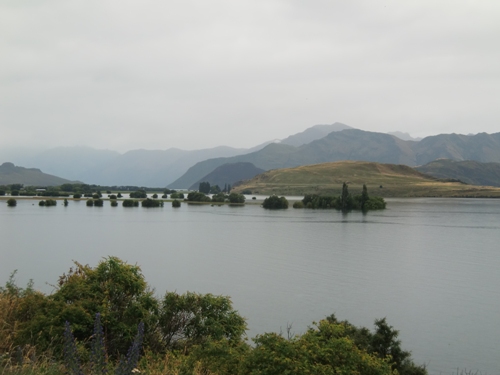 This is a perfect town for outdoor enthusiasts with its skiing, mountain biking, hiking and of course water sports. It's easy to see why there is a strong environmental movement here too, with nature smacking you in the face like this it is natural to want to preserve it.
We were fed very well by our hosts and it was a great chance to catch up some washing and blogs. We hope our readers haven't lost interest during this long gap in communication but we're back now. Along with the rugged beauty comes, of course, a lack of connection to the outside world including internet and phone.
Tomorrow afternoon after doing our thing in Wanaka it's another slight breaking of the schedule where we ride over the Crown Range a day early to stay in Arrowtown with a couple we met in Lake Paringa. Queenstown Rotarians will meet us there the next morning and ride the 20kms into town for our sort-of rest day. They have been in touch with new mayor Vanessa van Uden, who is keen to meet us and at some point we will have a chat with local newspaper Mountain Scene. It looks like it's shaping up to be a real success in the Otago region.

Xaver and Ollie