Journey of Hope Page 2

:

Coromandel on Day 9 to Eastbourne on Day 27
These pages are archived from the original home pages.
Page entries run from the bottom.
Other Journey of Hope pages:

This page: Coromandel on Day 9 to Eastbourne on Day 27.
Day 27

20 December 2010

Greytown to Eastbourne

RC Downtown Auckland reaches a magic figure for Journey of Hope
Hi Francis,
I apologise for the time it has taken to get back to you, but I am now happy to advise that pledges received from the Rotary Club of Downtown Auckland Inc amount to $1,059.00

This will be paid from our Charitable Trust over the next few days by our club's treasurer Allan Duffy.

From the reports on the Polio.org.nz website, Olly and Xaver are both doing pretty well.
I hope you have a happy Christmas.
Regards,

Graham Hendry
President,
Rotary Club of Downtown Auckland Inc

An awesome result reported to DG Howard from RC Pencarrow
20 December 2010
Hi DG Howard,

Thank you for last night! Words fail me but AWESOME springs to mind!

...we are pleased to report RC Pencarrow will be writing out a cheque for $5,132 towards the boys effort.

A big thanks to all fellow Presies and rotarians who contributed to making this a record night for the boys and Polio Plus. I want to do a certificate of acknowledgment to all who donate prizes and if possible - can I ask for you to countersign them with me?

The boys had a massive feast at our place this morning and are beaming from ear to ear after their PHF's (and whitebait fritters, bacon, black pudd, omelets,) and all the rest. They grinned like cheshire cats when I gave them the final tally.

Best wishes for the season and hope you guys get a break over the next few weeks.

Kind regards
John and Tracey

p.s Constable Ant's partner Sarah will be joining us a a rotarian and hope to give you date so you can assist me with the induction. Will be in touch,

John Stevenson, JP
President- 2010-2011
Rotary Club of Pencarrow
RC South Wairarapa tunes in to Journey of Hope
20 December 2010
Hi Francis,

Good to finally meet you and the boys on Sunday. As you know, I missed you when you visited our club recently (I had very cleverly arranged to have my left knee replaced on that day), so it was great to finally catch up.

We had an enjoyable ride accompanying the boys into Greytown; South Wairarapa cyclists: Anne Atkinson, John Bushell, Russell Calvert, Fred & Kathy Davies, and Tony Waygood; Truck Driver: President Steve; Riding Shotgun: President Elect Perry. We got the boys safely to Anne & Shane's house on Woodside Road, where we had a BBQ in the boys' honour, and presented them with pledges from the 3 Rotary clubs (South Wairarapa, Carterton and Masterton South) that were present. South Wairarapa pledged $500, but we won't be sending it off just yet as we have some other monies to add to that before our Treasurer writes the final cheque (one of our members made a personal donation, and we also had money collected from other sources). This is, of course, in addition to the $2,000 that we normally pledge each year to Foundation and the $2,000 that we pledge to PolioPlus.
On Monday morning, members Anne (plus a friend, Anneke), John , Russell , and Tony accompanied the boys into Featherston, where I believe they we joined by Trevor Mallard , and then John, Russell and Tony carried on as far as the summit of the Rimutakas, where they handed off to members of Pencarrow.

Russell did a great job organising this event for South Wairarapa Rotary, and Anne hosted the boys while they were in Greytown and opened her home up for the joint BBQ on Sunday night; so thank you, Russell and Anne, for you hard work in making the South Wairarapa leg of this event such a great success, and for the involvement and support of members John, Tony, Fred & Cathy, and Perry (President Steve made a pig's ear of being BBQchefmeister, but thankfully nobody seemed to notice!).

And on behalf of the Rotary Club of South Wairarapa, well done, Francis, for masterminding the event in NZ, and for giving our club the opportunity to be involved in it.
Thanks, too, to Xavier & Ollie for their outstanding achievement (follow the daily diary of their journey at http://issues.co.nz/RotaryPolio/Daily+Diary)
Absolutely brilliant!

Cheers

President Steve
Rotary Club of South Wairarapa
Day 26

19 December 2010

Pahiatua to Greytown

Day 25

18 December 2010

Waipukurau to Pahiatua

Journey of Hope features in RC Taradale Bulletin
17 December 2010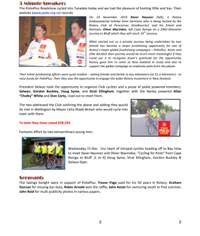 RC Taradale publishes a great Bulletin for its members. The December and Xmas issue featured the visit by Oliver Macindoe and Xaver Hausner to the Club to talk about the Journey of Hope.
Link to PDF version of Bulletin
Day 24

17 December 2010

Napier to Waipukurau

Day 23

16 December 2010

Rest Day in Napier

Day 22

15 December 2010

Lake Tutira to Napier

Day 21

14 December 2010

Wairoa to Lake Tutira

Day 20

13 December 2010

Gisborne to Wairoa

Day 19

12 December 2010

Rest Day in Gisborne

Day 18

11 December 2010

Tokomaru Bay to Gisborne

Day 17

10 December 2010

East Cape to Tokomaru Bay

Day 16

9 December 2010

Te Kaha to East Cape

Day 15

8 December 2010

Opotiki to Te Kaha

Day 14

7 December 2010

Whakatane to Opotiki

Day 13

6 December 2010

Te Puke to Whakatane

Polio epidemic in Congo
6 December 2010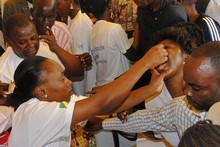 Photo/AP
The NZ Herald reports Unied Nations officials have called for an immediate ceasefire in the Democratic Republic of Congo (DRC) to allow vaccinations to reach millions of children threatened by a sudden epidemic of polio.
The aggressive return of the contagious paralysing virus comes just five years after it was declared eradicated in most of the world.

Click here to read the rest of the NZ Herald story
BOP clubs raffle a trailer-load of groceries for PolioPlus
6 December 2010
RC Maketu and RC Te Puke are raffling a trailer load of groceroies plus a BBQ to raise $10k for PolioPlus.
7000 tickets are on sale at $2 each. They can be purchased by contacting President Gus Cantlon (RC Maketu) or RC Te Puke http://www.rotary.org.nz/club.cfm?ID=411
Day 12

5 December 2010

Katikati to Te Puke

Wellington Rotary Cyclists to join Mayor and Journey of Hope on Tuesday 21 December
Wellington Rotarians on Bikes will join Xaver and Oliver for the last 14 kilometers into Wellington on Tuesday 21 December.
Wellington Mayor and Honorary Rotarian, Celia Wade-Brown, who is a well-known advocate of cycling as a transport alternative, will meet the Journey of Hope at the Petone Settlers Museum at 185 The Esplanade. All other Rotarian cyclists in the Wellington Region are invited to join in to make the end of the North Island leg of the Journey of Hope a major event.
Rotarians should mark the welcome in Civic Square at 3 p.m. in their diaries.
Message from Howard Tong for D9940 AGs
Wgtn region AG's

I'm not sure everyone is aware that we have a civic reception planned on the Tuesday 21st December as Xaver and Ollie arrive in Wgtn on their way to Bluff.
It will be at Civic Square around 3pm that afternoon. With Clubs having their final meetings, it would be good to get each President to make members aware of this event.
I will be joining Mayor Celia Wade-Brown and I am sure it will be a pleasure to see the support from local Rotarians.
Francis Wevers anid the Rotary Club of Wellington would appreciate your support as well - not to speak of Xaver and Ollie.

So can I ask you to contact your Clubs and get this event known.

Much appreciated

Howard

For more details see the RC of Wellington Newsletter (see attached) or here
http://www.rcw.org.nz/calendar/?eid=89
Day 11

4 December 2010

Tairua to Katikati

Well done Feilding
4 December 2010

Dear Howard,
Just to let you know our planned BBQ for the CYC4P+ held last weekend raised $ 219.50.
This money has been passed onto our Treasurer David Young to forward to the appropriate place.
Noel Leins
Project Director
Rotary Club of Feilding.
BBQ for PolioPlus Cyclers Xavier & Olly SUNDAY DECEMBER 19 @ 6pm - Greytown
3 December 2010
Hi everyone,
In our last bulletin, the date quoted for the above BBQ is incorrect: it should be SUNDAY DEC 19 (not Wednesday Dec 22).
But it's still @ 6pm, and still @ Anne Atkinson's place @ 72 Woodside Road, Greytown (llok for the Christmas trees, and drive to the end of the driveway)
Thank you, Anne, for hosting this event! (And it's BYO food and refreshments).
Russell and the rest of our cycling members fit enough to do so, will meet the boys along the way on Dec 19 and escort them into Greytown, and then they plan to escort them on their way the following day (Dec 20) to Featherston and over the Rimutakas.
As Russell mentioned at club night, this will be a BBQ in honour of Xavier & Olly who are doing such a fantastic job cycling around NZ promoting PolioPlus, and we're hoping to have members of Carterton, Masterton, and Masterton South join us as well. So it's to be a very social event. However, on behalf of SW Rotary, I'll be presenting a donation to Xavier & Olly at the bbq, in order to do "our bit" to rid the world of Polio, and at the same time "Building Communities, Bridging Continents".
If you're available on Sunday Dec 19 @ 6pm, please make the effort to join us in welcoming the boys, and encouraging them on their way for this wonderful cause.
Thank you, Russell and Anne for organising this great event!
Cheers
President Steve
Rotary Club of South Wairarapa
cc: DG Howard Tong, ADG Marilyn Hunt, Nicky Orsborne (President Carterton Rotary), Debbie van Zyl (President Masterton South), Dermot Payton (President Masterton Rotary)
Day 10

3 December 2010

Coromandel to Tairua

Day 9

2 December 2010



Journey of Hope Page 2
Coromandel on Day 9 to Eastbourne on Day 27
Other Journey of Hope pages:

This page: Coromandel on Day 9 to Eastbourne on Day 27.