What is PolioPlus?
PolioPlus is the extraordinary effort by Rotary International and its partners to eradicate polio, a tenacious disease.
In 25 years, the number of endemic countries has been reduced from 135 to 4 (Afghanistan, India, Nigeria and Pakistan).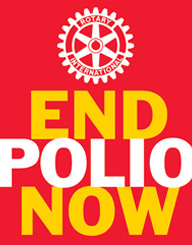 Polio eradication is within our final grasp. But if we do not eradicate the disease now, the risk of crippling and deadly polio outbreaks will continue to threaten the world's children!
Every Dollar you donate will be doubled by the Bill & Melinda Gates Foundation. It is your contribution that will END POLIO NOW!
Useful links:
Bill & Melinda Gates Foundation website