View this letter as a bog post.
A letter from Ollie and Xaver - one year on
16 January, 2012
Dear supporters of the Journey of Hope,
Exactly one year has passed since we (Xaver Hausner and Oliver Macindoe) finished our ride for PolioPlus and arrived in Bluff on the 16th January 2011. We wanted to take this opportunity to thank you once more for the support you gave us either before we left or along the way, and to wish you success and happiness for the year ahead.
While on our 54-day-ride for PolioPlus we:
travelled 3,481 km
climbed 33,907 vertical metres
raised $50,557NZ for PolioPlus
met with members of more than 35 Rotary Clubs
spent 17 nights in our tent
took over 2,000 photos
blogged over 31,000 word
fixed 5 spokes and one puncture
caught 3 ferries
fell off the bikes 3 times
visited 2 doctors.
To the many people who donated to PolioPlus, who welcomed us into their homes for the night, who met us on the streets to ride with us or promote the cause, who gave us equipment (or fixed it), who gave us a beer at the end of the day or a plum at the end of a long hill; our trip wouldn't have been possible without you and certainly wouldn't have been half as rewarding.
Thank you!
In the last year Xaver has been back in his homeland of Germany preparing for his law exams this coming March and Ollie has been in Christchurch training to be a teacher. In October Ollie came to Germany and since then has been studying at the University of Freiburg. Ollie spent Christmas with Xaver's family in Würzburg and it has been fantastic being able to catch up again. We have had a lot of fun reminiscing about the trip and looking over photos.
It would have been nice to be able to send a personalised email to all the people that supported us along the way but there are simply too many of you! We would love to hear from you if you feel like writing and letting us know what you are up to a year later. This trip was very special to us; we had planned it since we were 17 and 18 years old. Something we couldn't have planned for and something we couldn't have expected, however, was just how special the people we met and corresponded with made it.
Yours gratefully, Ollie and Xaver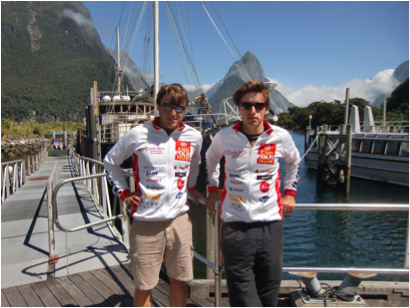 Xaver Hausner and Oliver Macindoe at Milford Sound, January 10, 2011
Read about Rotary International's $200 million Challenge.
The Journey of Hope took place in the summer of 2010 / 2011. See the archived pages here.
The Journey of Hope pages
Home page archive
Cape Reinga on Day 1 to Auckland on Day 8.
Coromandel on Day 9 to Eastbourne on Day 27.
Wellington on Day 28 to Franz Josef on Day 39.
Lake Paringa on Day 40 to Bluff on Day 54.
Daily Diary archive
Journey of Hope riders awarded Paul Harris Fellowships
Xaver Hausner and Oliver Macindoe, who rode nearly 3500 km from Cape Reinga to Bluff to raise awareness about polio and funds for PolioPlus, have had their epic journey honoured by District 9940 by the award of Paul Harris Fellowships.
The awards were presented by District Governor, Howard Tong.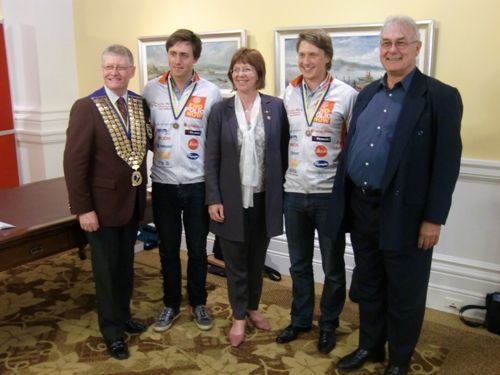 They are issued in memory of the Founder of Rotary, Paul Harris, and were instituted by Rotary International in 1957 to recognise service of outstanding merit.
More than 30 Rotarians and family were present at the ceremony which was hosted by the Mayor of Wellington, and Honorary Member of the Rotary Club of Wellington, Celia Wade-Brown.
The Citations for Xaver and Oliver spoke of the enormous contribution they made to promoting Rotary values and the global campaign to eradicate polio as they cycled from one end of New Zealand to the other over 54 days.
The Journey of Hope reached out to Rotary clubs the length of the country and with clubs touched many communities as they rode through. Many local newspapers covered their journey and took the Rotary message to the wider community.
Not only did the riders travel the length of New Zealand but they also achieved another remarkable feat - they climbed up the equivalent of three Mount Everests and then sped back down the other side! And in the process they raised over $46,000 for the PolioPlus campaign which is coordinated internationlly by the Rotary Foundation.
Journey of Hope completed
The Journey of Hope (Cycing NZ for PolioPlus) is now over. On 24 November 2010 Xaver Hausner, a Rotary Ambassadorial Scholar from Germany who was hosted by the Rotary Club of Pencarrow (District 9940), and his friend and flatmate, Oliver Macindoe, left Cape Reinga on a 3360 kilometer journey to Bluff. Along the way they and the supporting Rotary clubs of New Zealand raised money and profile for the ongoing campaign to eradicate polio world-wide.
You can still donate to Rotary's 'End Polio Now' campaign.
You can join our ongoing campaign on Facebook and by signing on as a supporter – see right column.
You can read about Xaver and Oliver's incredible journey as it was recorded in this website's Journey of Hope pages – see below for the archive of home pages and Daily Diary pages.
Post Polio Support Society says thankyou
16 January 2011
Congratulations and thank you to Xaver and Oliver and support team, for raising the huge amount of money and awareness to help eradicate polio. The impact of your tour will be felt overseas and in NZ for a long time to come.

On behalf of people who had polio in NZ before the vaccination was developed and who now live with the after effects of getting polio, I want to say thank you a thousand times.

Much appreciation,



President Edith Morris
Post Polio Support Society of NZ (Inc)
P O Box 12357 Hamilton 3248
Tel: 0800 476 546
E-mail: edith@catchword.co.nz
Message from Rotary District 9980 Governor Trish Boyle
16 January 2011

Simon and I have had the pleasure over the last two days of being involved with Ollie and Xaver who have ridden from Cape Reinga to Bluff.
Polio Chair, Lindsay Stephenson coordinated the effort and did an amazing job.
On Saturday Dave McKissock –Invercargill South Rotary Club, who is recovering from knee surgery, Lindsay Stephenson and Marty Gale from Invercargill Sunrise Rotary Club rode with the boys from Riverton to Invercargill. We met them at Queen's Park and then hosted them for the night.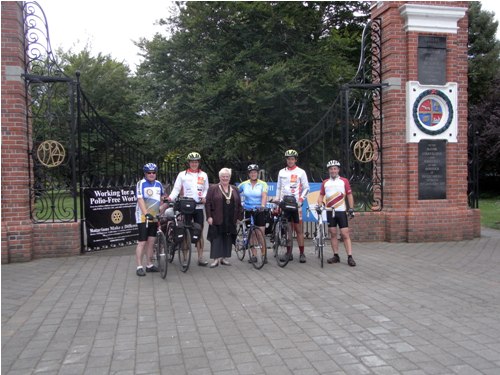 Today, Simon and Kieran O'Neill – Invercargill Rotary Club rode with them to Bluff. Lyndon Moffit from the Fiordland Rotary Club rode down to see them finish their ride.
Tim Shadbolt met them, although he was late! He had to borrow the Rotary District Chains for the photo opportunity.
Lindsay organized a trip to Stewart Island for the boys and they are back to stay with us tomorrow night before travelling to Dunedin. They hope to join Dunedin Central for their meeting on Tuesday night.
Look for the boys on TV Cue Channel 100 on Monday night.
Trish Boyle
DG 9980
The Journey of Hope pages
Home page archive
Cape Reinga on Day 1 to Auckland on Day 8.
Coromandel on Day 9 to Eastbourne on Day 27.
Wellington on Day 28 to Franz Josef on Day 39.
Lake Paringa on Day 40 to Bluff on Day 54.
Daily Diary archive
See Daily Diary (Day 1 to Day 10)
See Daily Diary (Day 11 to Day 15)
See Daily Diary (Day 16 to Day 22)
See Daily Diary (Day 23 to Day 28)
See Daily Diary (Day 29 to Day 42)
See Daily Diary (Day 43 to Day 49)
See Daily Diary (Day 50 to Day 54)